vnc for all
alpha vnc lite is a vnc server for Android, that allows to view and control the screen remotely via the popular vnc protocol. It is literally the only vnc solution that doesn't require root privileges or other 'hacking' procedures to run. Featuring pointer input control and a full software keyboard access, alpha vnc lite is the complete vnc solution for Android.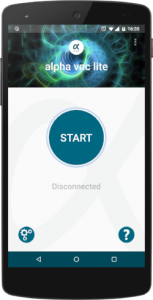 Keep the control
alpha vnc does not require your Android device to be rooted. It runs out of the box. Install, set up, run! And stay in your network. No need to route the remote session over 3rd party servers.
howto
Find out more about the functionality of alpha vnc lite in the alpha vnc lite howto.
Share your experience
alpha vnc lite is maintained to support all newer Android versions (over 5.0). New features are included in every release, inspired from our users' feedback. If you wish to suggest new functions, you are welcome to contact our team and share your ideas!
Try it now!
You can download the latest version on Google Play.