vnc for all
alpha vnc lite is a vnc server for Android – available in the Google Play Store – that allows to view and control the screen of a device via the popular vnc protocol. It is literally the only vnc solution that doesn't require root privileges or other 'hacking' procedures to run. Featuring pointer input control and a full software keyboard access, alpha vnc lite is the complete vnc solution for Android.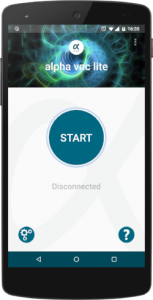 No root access required
alpha vnc does not require your Android device to be rooted. It runs out of the box. Initial device setup is easy and fast.
Keep the control
alpha vnc allows you to stay in your own network. No need to route the remote session through 3rd party servers.
Business ready
Want your company logo included? Need session management? We customize alpha vnc according to your requirements. Additionally, we provide the alpha vnc API, if you want to include the functionality of alpha vnc into your own Android application.
Try it now!
You can download the latest version on Google Play.