Our standard pricing model was developed according to our Users' experience for the most required products. Individual solutions are considered, on demand.
Our Services enclose sufficient evaluation, prior to a subscription plan. Feel free to let us know, if you wish to start an evaluation.
License management – Remote device access
Our modular concept allows you to choose the best package for your use case. With or without Cloud Service!
If you have just purchased a license-key that unlocks the alpha vnc pro functionality, feel free to create an account at the abr Remote Console. Every license-key encloses 30 days evaluation of the Cloud Service, by default. Following evaluation, you can consider a subscription plan.
The pricing for our most required packages is as follows: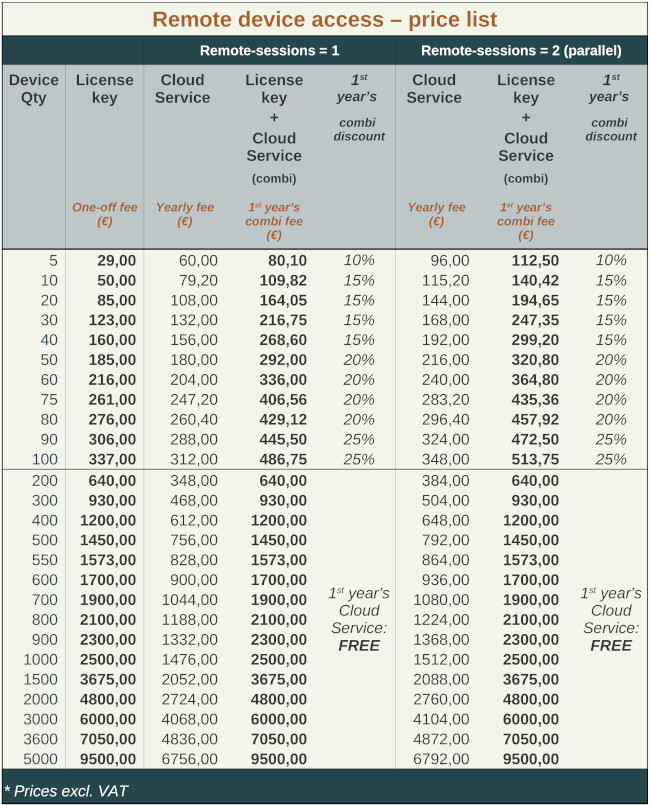 API Service
Integrate the functionality of alpha vnc into your own App for a yearly fee of 720,00€ (ex. VAT), independent of the number of supported devices! Technical support during implementation, standard maintenance and updates are included in this price.
Shipping management
As a Delivery company, you are welcome to try our Shipping Console for your Deliveries (Orders).
– Request a Deliverer's code today.
– Create an account at the abr Shipping Console.
– Invite your Clients.
– Invite your Drivers.
– START!
You can use the Service for the first 300 Orders without any costs! Following evaluation, the Service will be offered for 0,09€ / Order (ex. VAT).
Most importantly, you are free to quit any time!
Get started
If you are interested in any of the offered packages or just have an individual request, feel free to contact our team today and get started!